You will be able to see everything sent and received with the device, monitor phone calls, text message, voicemail, browsing history, and multimedia content send or received. This application also features real time map positioning with GPS on the phone, meaning that you can see where they are at any time. The mSpy application is easy to download and install, even without any tech background. But if you do have difficulties, there is a support staff available 24 hours a day to help you through whatever hiccup you encounter.
With its expert design and all that mSpy can do, you would expect to pay a fortune for it. Actually, while it does have a cost, it is very minimal compared to the features and information it provides. MSpy is simple and easy to install , the first step being to obviously purchase and download the application so you can install it on your target.
Installation only takes a few minutes, and you do not need any technical skills to do it. Whenever you download the program, you will be able to see any information on the target phone, no matter how private it might be. You will also be able to access their phone information from your computer as well. This should be plenty enough for you to finally be able to log on to your dashboard on mSpy and receive all the information you ever could have asked for.
What Is FlexiSPY's iPhone Monitoring Software?
Once installed, the spyware can be accessed from your mobile device or computer anywhere. This is the best way to remotely access not only WhatsApp, but an entire phone without detection. Anyone can use it, and it does not require training or expertise to avoid detection. You only have to pay a few bucks to download the program. These above listed options are the best for monitoring WhatsApp messages. I hope that this information can help you, but in case you still have questions, do not hesitate to comment below.
If i intsall the program on my target phone do i also need to install the program on my phone before reading her messages??? Hi Austin! All you have to do is access to the mspy dashdoard from your mobile to see the messages. I have my boyfriends iCloud credentials and he has an iPhone. Do I download mspy on my phone and then enter his credentials, will he get notified at any point when I do this?
Top 10 Best Spy App for iPhone in (% Works) | Spyic.
spyware blaster homepage;
30+ iPhone Spy Features In iKeyMonitor!
Hi Axnaya, first of all you choose the subscription plan and proceed with the purchase. After that you receive an email with the login and password to your personal Control Panel where you also find the installation instructions. If you have the physical access to the target device, launch the phone browser, type in the link for downloading the program and proceed with the installation. Will he be able to see the app? When I install MSpy on to my partners android phone, will he be able to see the app on his phone. Since my daughter deletes all her messages immediately upon reading, what is the best tool available to read all the messages real time?
Or is there any tool that backs up messages in real time and will not get deleted even if my daughter deletes them from her phone. Hi Corey, you should still see the deleted messages through mSpy. If you still have questons feel free to text me back. Hi Frankie I also had the same question? Can I use mSpy without having my partners phone?
💡 SPYZIE 💡- COME SPIARE UN IPHONE/SMARTPHONE!
My partner lives in another city so I have no access to their phone. Hi, is mSpy also working in Europe? I see its an American product , but wonder if it can track a phone number within the EU.
Spyware for iPhone WhatsApp 3g Free Download
And do I need to know their passwords to see inside their conversations? Greetings, Fr. Hi Franciska It working also in UE all around the world. How to resolve this.
Do I disconnect the target phone from internet? Hi would like to spy my husband whatsapp messages. Can I use the PC instead to spy him other than whatsapp web? When you login targets iCloud credentials will they receive a notification that their Apple ID has been used on another device?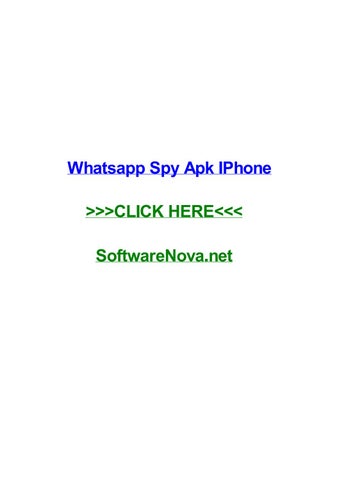 Or is it encrypted? Infidelity is a very serious issue to deal with and is becoming major threat to most marriages and homes. If the victim has Android phone you need the physical access to install mSpy or other spy apps. Mac Spoofing is too complicated for me though. Spy Phone App is the next generation of smartphone surveillance software. This mobile tracker application records the incoming and outgoing phone calls , sms and surroundings. It tracks gps locations , the browser activity and messages from applications like Whatsapp, Facebook, Viber, Skype and Line.
With the free trial that we offer, you can also test the application. Spy Phone App is using the smartphone's internet connection in order to send the data to our server. After that you can monitor the logs remotely from our server. You will need to login to our server using the email and password supplied when you registered the application on the smartphone. Tracks for FREE the gps coordinates periodically.
hukusyuu-mobile.com/wp-content/tracker/1055-cell-track.php
№1 iPhone Spying App • iOS Tracking & Monitoring Software | mSpy
The location is displayed also for a phone call or sms. This is a great mobile tracking. Puts you on the know. Which info one must use very responsibly. It is important to know that it can not be used as a cell spy. Spying without their consent is illegal. This is a great cell tracker app. It helped me find out things that I would have never knew about with out it. Truly a need to have app thank you guys. Really like this mobile tracker program and recommend it to my friends.
Mobile Spy SMS WhatsApp Calls Apk
It is as common as using whatsapp everyday. Appmia is the very thing! It is a multifunctional mobile spy software tool. If you install Appmia on the targeted device, you will instantly get a confidential access to all data on the gadget. No matter whose iPhone you need to keep under surveillance: your children or employees, you will never be kept in the dark. Appmia offers a lot of really useful iPhone tracking and spy features. You will always be able to look through call logs contacts, time and duration , all types of text messages including old and even deleted ones, uploaded images and video files.
Browser history will be also available. You will get a full list of domains and subdomains viewed from the monitored cell phone. Text messaging in social media is no exception.
Top 10 Whatsapp Spy Apps [Updated].
How to Spy on Whatsapp Messages | 3 Best Spy Apps for iPhone and Android.
Enhanced Potential of Tracking and Locating!
text message tracking sprint?
cell phone spyware all phones.
spying app for blackberry!
Spapp Monitoring for:.
You will never stay ignorant of any information you are interested in. You can look through all installed and running applications. There is more to come! It is also possible to uninstall the application or to lock iPhone remotely. This feature is very useful in case a gadget is stolen or just lost.
In order to view all the above-mentioned data, you should register your Appmia web account. Monitored information is uploaded to it, and you can view data whenever you will.